Karaitiana
Christianity
Welcome
Welcome to Wellington City Libraries' page of resources on Christianity. Here you'll find a cross-section of what the library holds on Christianity, some quick links into our online databases and the library's catalogue, and links to websites selected by our subject librarians. Books on Christianity are spread over a range of Dewey Decimal numbers. Try our Catalogue Quicksearch to help focus your searching, or else check out the Beliefs homepage for a comprehensive list of Dewey numbers relating to religion.
Last updated 5 August 2018.
Recent items
(Books, magazines, books on CD and DVDs.)
Books: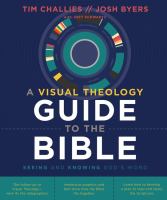 A visual theology guide to the Bible : seeing and knowing God's word, by Tim Challies.
"This unique resource helps you connect the truth of the Bible to your life, showing how God's eternal truth leads to life change and transformation. Including key terms, group study discussion questions, and exercises for deeper, more personal reflection on God's Word, this will help both new believers and long-time Christians, and anyone else interested in sound systematic theology." (Catalogue)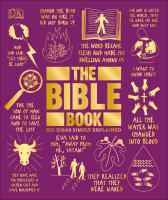 The Bible book
The Bible Book explores the ideas and beliefs key to the teachings of the most widely printed religious book of all time. This highly visual book highlights more than 100 of the most important Biblical passages and explains their theological significance and key concepts. Profiles of primary figures--from Adam and Eve, to Peter and Paul--and places of the Bible, such as Jerusalem and Rome, add context to the scriptures. Essential theological concepts, such as the Trinity, God's omnipresence, and the salvation of Jesus death, are explained in detail." (Catalogue)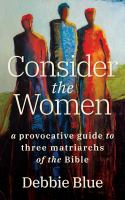 Consider the women : a provocative guide to three matriarchs of the Bible, by Debbie Blue.
Examines the biblical stories of Esther, Hagar, and Mary, offering fresh insights on her subjects. For example Hagar is the first person in the biblical record to weep. Her writing is clear, and engaging, but without overlooking the impact of absence of multiple voices engaged in interpretation : "It's not just women who will suffer if white men remain in their place of historic supremacy; it's anyone who is not a wealthy, healthy, white male." Blue's message is a female-centric rereading of scripture.
Scripture, ethics, and the possibility of same-sex relationships, Karen Keen.
"With pastoral sensitivity and respect for biblical authority, Keen breaks through current stalemates in the debate surrounding faith and sexual identity. The fresh, even-handed re-evaluation of Scripture, Christian tradition, theology, and science in Keen's Scripture, Ethics, and the Possibility of Same-Sex Relationships will appeal to both traditionalist and progressive church leaders and parishioners, students of ethics and biblical studies, and gay and lesbian people who often feel painfully torn between faith and sexuality." (Catalogue)
Catalogue Quicksearch
eBooks
Yes! we have more downloadable ebooks. Overdrive Ebooks is a free service.
Under the label "Browse Ebook Nonfiction" choose the Religion and spirituality heading to find books.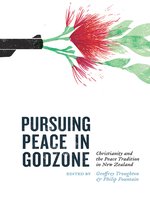 Pursuing Peace in Godzone, Phillip Fountain (eBook) New Zealand Christians and others have worked for peace in many different ways, from attention-grabbing protests against nuclear weapons, apartheid and war, to quieter but no less important efforts to improve relationships within their churches, communities and the natural environment.
(Overdrive description)
Other recent titles include :
The Mosaic of Christian Belief, by Roger Olson.
Adament : finding truth in a universe of opinions, by Lisa Bevere.
Jesus on trial, by David Limbaugh.
What is the point of being a Christian?, by Timothy Radcliffe.

Begin learning NT Greek today
Ever had a hankering to know a bit more about Greek of the Christian New Testament?
Learn at your own pace, in your own time, for free. If you wish, begin at the basic level which assumes no prior knowledge and work your way through the 50 lessons, with an option to save your progress.
Login with your library card details and select the Greek (Koine) language option from the over 40 available on Mango languages.
Downloadable Audiobooks
Overdrive Audio is a free service which allows you to download and listen to audiobooks. Some can be saved onto CD for future listening.
Under the label "Browse Audiobook Nonfiction" choose the Religion and spirituality heading to find books by popular authors such as :
C.S. Lewis, Joyce Meyer, Brian McLaren, Max Lucado, or Rick Warren.
Titles include :
Jesus among Secular Gods : the countercultural claims of Christ, by Ravi Zacharias .
Desiring God, by John Piper.
Seeking Allah, finding Jesus, by Nabeel Qureshi.
Evil and the Justice of God, by N.T. Wright.

Online databases & articles
Database articles
Wellington City Libraries subscribe to a number of different online databases that provide news and periodical articles on a wide range of topics. Below you'll find some links to recent articles on Christianity, selected by our librarians.
If you have signed on to our magazine databases in the last month, the article links below will take you straight in to the database to view the article. Otherwise, you will need to login first, entering your library card number and surname details, then return to this page to get the details to insert into the search once you are logged in. If you'd like to discover what our databases have to offer on topics other than religion, visit our online databases section, www.mygateway.info.
Journal titles:
I never knew the library had so many! Where are they? Mostly online - with free access through your library card. If you want to look at several journals offered by the same database service, you don't need to log on to view each title or issue. Here are some titles currently being received :
Other online titles:
Touchstone (E-journal)
Eclectic content, with editors and readers from each of the three great divisions of Christendom - Protestant, Catholic, and Orthodox.
Useful websites
Contact Us:
Interested in finding out more about what the library holds on beliefs? Found a topical online resource you'd like to share? Contact us at enquiries@wcl.govt.nz. We'd love to hear from you!