Here is part 4 of our new music picks for August. You can catch up with Part 1 here, Part 2 here and Part 3 here. Do we actually know anything about new music? Or, are we just too old to understand what most of this is banging on about? Read on to find out…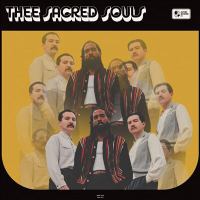 Thee Sacred Souls / Sacred Souls
Mark: One of the best examples of Retro soul around is San Diego band 'Thee Sacred Souls'. The band's first club dates led to a record deal with the revered Daptone label, their first singles racked up more than ten million streams in a year, and now their debut album is getting rave reviews. This is no surprise, as this silky mix 70s soul & Doo Wop strains is really good. Plenty of great falsetto crooning from vocalist Josh Lane about love found & lost, with lush harmonies and horn arrangements. So smooth, yet somehow sounding more authentic than a lot of the other bands worshiping at the retro-soul alter.
Neil: An album that effectively channels down tempo sweet soul music of the late 1960's and the early 1970's. The tracks are mainly sultry summertime slow jams, with accompanying vocals and occasional spoken passages that talk of love and romance. There are trademark soul horn stabs in all the right places too. It's all superbly executed, with glorious harmonies and a soothing loving touch to many of the tracks.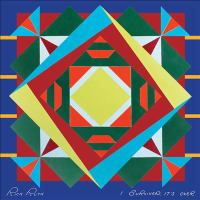 I survived, it's over / Ruth, Rich
Mark: This sounded like the kind of experimental noodling, that really does nothing for me, but I included in in this round-up as I know Neil likes this kind of thing. However I have to say that I actually really enjoyed this. Rich Ruth is the moniker of veteran Nashville musician Michael Ruth; 'I survived, it's over' is his third album and his first release for Jack White's Third Man label. It's a sort of ambient take on Americana: melding spiritual aesthetics, electronic touches, rock and psychedelia, space-jazz, shredding guitars, pedal steel, droning synths, and lots of other elements. Created in 2020 his home studio during the pandemic with samples and re-worked contributions from other musicians (including three Sax players), it was an emotional response to (among other things) a series of tornados that ravaged his neighbourhood. It is a truly massive sounding, deeply spiritual and beautifully unique listen. A spiralling flurry of emotions explode out of each track, leaving something intense and rewarding and its place. It reminded me somewhat of Tortoise in some places, so I wasn't surprised to find out it was mixed by John McEntire (the drummer/producer from that band).
Neil: Lush layers of soothing synths with middle eastern flavoured percussive elements, saxophone and mellow fuzz-box jazz guitar are some of the main ingredients in Rich Ruth's 'I survived its over'. The album has self-confessed therapeutic intentions; the music aimed at helping listeners find elusive inner peace and calm, healing the traumas that many of us experience in modern day life. To achieve its aims, it moves effortlessly between ambient music, early 70's influenced jazz and psychedelic rock, fusing these ingredients together as a whole, rather than having them compete against each other.
Heartmind / McCombs, Cass
Mark: The tenth album from the cult California singer-songwriter delivers a suite of strongly melodic and intimate folky-pop. If you are unfamiliar with his work, he has been often compared to Elliott Smith and this album retains some of that influence, along with elements of Dylan and Grant Lee Phillips. While there is definitely a folk album at its core, there is more diverse instrumentation than you would expect. Some tracks lean into a sunny Teenage Fanclub sound, others into a psychedelic Jazzy vibe. A complex and musically adventurous album that often surprises with its quirkiness. Sardonic lyrics and clever wordplay hide an emotional core, as the album reflects the loss of close friends and musical comrades.
Neil: 'Heartmind' by Cass McCombs is an album created as a reflective and creative response to the loss of some of the singers' closet friends. That said, the music in the these tracks is often easy to listen to, rolling with gentle washes of melody, but also with little moments of off kilter strangeness. The lyrics, however, are another thing with complexity, sadness, and vivid scenes all woven in. It's a highly focussed album that mixes sad intensity and the absurdities of life in a slow burning way.
Tug of war / Mitchell, Jenny
Mark: 'Tug of War' is the third album from Jenny Mitchell, a Gore folk/country singer-songwriter, who is now based in Wellington. Her second album, 2018's release 'Wildfires' won a Tui for Recorded Music NZ Best Country Music Artist in 2019. Her follow-up is a sophisticated take on Americana that blends country and folk, with touches of pop. The songs focus on relationships and storytelling, taking on some heavy issues like sexual abuse and mental health in a subtle style. Lead single 'Trouble Finds a Girl' is a collaboration with Tami Neilson, so that gives you a starting place in terms of her sound. Reminded me in places of Taylor Swift's folk period, with its mature song-writing.
Neil: 'Tug of War' is the third album from Aotearoa alt-country artist Jenny Mitchell. The largely storytelling Americana tracks are enveloped in a warm blanket of wit and wisdom which she makes very much her own. Sure, you can hear the unapologetic distant echo of Nashville, but there is a deep honesty in the lyrics and the music is both accomplished and sophisticated. Jenny has shared the stage with the likes of Tami Nelson (who duets on one of the albums tracks). It's an album that reflects an artist with many years' experiences, and is sure to attract legions of alt-country fans here and further afield.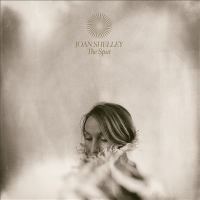 The spur / Shelley, Joan
Mark: The ninth album from this Kentucky-based singer/songwriter was hailed as a career highpoint, mixing both '60s folk and old-time country. The songs were written across 2019-2020, as she sat out the pandemic and found out she was going to become a parent, and then recorded when she was seven months pregnant. All of which, naturally, added layers to these songs which dissect the conflicting emotions of uncertainty and renewal, love and hope in turbulent times. The low key intimacy of her vocals and guitar work is enhanced by some later overdubs and flourishes: including horns and cello lines, dobro, some keyboard textures, along with guest vocals from Meg Baird on two tracks and Bill Callahan on one. A timelessly contemplative album that unfolds over multiple listens to reveal its many musical and lyrical depths.
Neil: 'The Spur' by Joan Shelley is a country-folk album that operates beyond the limitations of the genre by using a rich variety of sonic textures. It uses the country-folk genre more to inform her work, rather than define it. The lyrics bring to mind on occasion the work of people like Nick Drake or Leonard Cohen, but Joan's own (often multi tracked) vocals and musical arrangements make these comparisons only passing .'The Spur' is reflective, elegant, delicate, and beautiful, whilst often retaining an earthy edge .
Sometimes, forever / Soccer Mommy
Mark: Sophie Allison (AKA Soccer Mommy) is part of the 90s revival, alongside artists like Japanese Breakfast, Beabadoobee, Snail Mail, Mitski, Lucy Dacus, Phoebe Bridgers etc. 'Sometimes, forever' is a follow-up to 2020's Color Theory, and is full of fuzzy guitars and melodies, and songs that that veer from exhilaration to despair. The layered production sounds amazing, and is full of analogue sounds as well as modern electronic touches. It's hard not to like this blend of shoegazey indie-rock, or doubt the sincerity and musicianship behind it. The lyrics, reflecting the issues facing a young woman of her generation, are perhaps a bit more pointed, but for me, overall, there's nothing really happening here that hasn't been done before by any one of a dozen bands from the 90s. Still, if you like her style of melancholy nostalgia, then there's plenty you will enjoy on her new album.
Neil: Soccer Mommy's (aka Sophie Allison) third album really mixes it up, and you can tell quickly that she is using the work to explore her own recent dark past. There are moments of indie Jangly pop, synth pop, as well as angst driven shoegaze. 'My Bloody Valentine' came to mind in places as well 'Portishead' and PJ Harvey. To help her establish these darker experimental elements for this release, Sophie brought in Daniel Lopatin, better known as the musician 'Oneohtrix Point Never', and to a large extent the move works well. This sounds like an artist exploring her own dark places, but using her music as a catalyst to move on to a brighter place whilst recognising those darker experiences.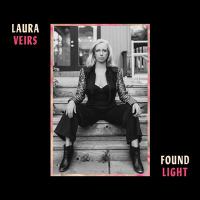 Found light / Veirs, Laura
Mark: The twelfth album from Portland, Oregon-based singer-songwriter Laura Veirs, following on from 2020's My Echo, and the first following her split from longtime producer-husband Tucker Martine. The resulting album is her first time co-producing and arranging her own songs and, from a technical perspective, her first time recording her guitar and vocals together rather than separately. Both of these things contribute the different feel of this album, with is more intimate, sensory, angular and experimental than her previous work. Lyrically, it resembles an almost journal-esque take on newfound freedom, post break-up reflection, transformation and discovery.
Neil: 'Found light' is a mysterious haunting album, like a collection of ancient and modern folklore song tales and poems set to beautiful music. There is sparse instrumentation here, but the core of the work is Laura's expressive voice and crystal bright shimmering guitar. It sounds like an artist exploring a vibrant dream, an exploration of passing seasons and weather, fleeting colours and senses, tastes slowly dissolving on the tongue, moments of time that gradually move on and fade. In its own very gentle way, I found the album riveting.
Driven / O'Sullivan, Gilbert
Mark: Gilbert O'Sullivan is a veteran singer-songwriter in the classicist pop style, best known today for his number one, 1972 U.S. smash 'Alone Again (Naturally)' – which would go on to be used without clearance by rapper Biz Markie in a track which would ignite the legal process around the use of samples. Irish at birth, he spent most of life in England and while at a point in the 70s he was as big a star as Elton John, he faded from popular consciousness in the following decades. Despite lengthy legal battles with a former label/manager, he still created a steady low-key output of Beatles-eque, melodic pop, and with his acclaimed new album 'Driven', his 20th, he has cemented a late career renaissance following on from his equally acclaimed 2018 self-titled release. Witty, catchy, lush, playful pop in the vein of Paul McCartney, with a wry Randy Newman-esque take on life's ironies. If you enjoyed the new album from Brett McKenzie, you'll find a lot of its influences in this.
Neil: Gilbert O'Sullivan was one of the most successful artists of the 1970's, indeed he was the number one male singer of 1972, and his remarkable success ran for close on five years with a slew of No. 1 singles and albums. However, a change in the record buying public's taste, coupled by a protracted lawsuit over royalties which lead a five-year hiatus in his recording, caused his career to lose momentum and decades in the musical wilderness were to follow. However in 2018, decades since his last commercial success, his self-titled album went into the top twenty. This is his 20th album, and it sounds just like it would have if it had been released at the height of his commercial heyday which, for anyone unfamiliar with Gilbert's oeuvre, think singer-songwriter piano ballads.