One of the strengths of the modern era is the celebration of diverse voices. These voices have always been present, but may have been lost in the crowd, or over-looked for a variety of reasons. This list contains several additions to our collection which begin to explore these different perspectives – from the first biography of the woman who raised Buddha, to the Muslim Princess who became a British spy during World War Two.
Te Hāhi Mihinare = the Māori Anglican Church, by Hirini Kaa.
Anglicanism arrived in New Zealand with the first English missionaries in 1814 but was spread widely by Māori evangelists. They profoundly influenced some key iwi, who adapted and made it their own. The ways in which Mihinare (Māori Anglicans) engaged with the settler Church in New Zealand and created their own unique church is an important narrative in NZ church history. This ground-breaking addition explores the birth, development and challenges in the ongoing life of Te Hāhi Mihinare.
The woman who raised the Buddha : the extraordinary life of Mahāprajāpatī, by Wendy Garling
"In this first full biography of Mahaprajapati, The Woman Who Raised the Buddha presents her life story, with attention to her early years as sister, queen, matriarch, and mother, as well as her later years as a nun. Drawing from story fragments and canonical records, Wendy Garling reveals just how exceptional Mahaprajapati's role was as leader of the first generation of Buddhist women, helping the Buddha establish an equal community of lay and monastic women and men." (Catalogue)
Warriors, witches, women : mythology's fiercest females, by Kate Hodges.
Explore 50 of mythology's fiercest females in this modern retelling of great legends – from feminist fairies to bloodsucking temptresses, half-human harpies and protective Vodou goddesses. Meet Circe, The righteous Furies, fun-loving Ame-no-Uzume, the fateful Morai sisters. Fire your imagination and be empowered by this great anthology of notorious, demonised and overlooked women.(drawn from the Catalogue)
Women of the Vatican : female power in a male world, by Lynda Telford.
Telford explores the lives of women who have had personal and unofficial influence at the Vatican over the centuries. The women discussed in this book include mistresses as well leaders such as Catherine de Medici, Empresses Maria Teresa of Austria and Catherine of Russia. This makes some controversial claims, but it explores the Catholic Church's sometimes overlooked different power bases.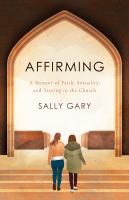 Affirming : a memoir of faith, sexuality, and staying in the church, by Sally Gary.
"In this deeply personal memoir, Sally traces the experiences, conversations, and scriptural reading that culminated in her seeing her sexuality as something that made sense within the context of her faith–not outside of it or in opposition to it. … Sally's story–one of heritage, learning, courage, and love–is written especially for the generations of LGBTQ Christians after her who are questioning whether they can stay part of the church they call home." (Catalogue)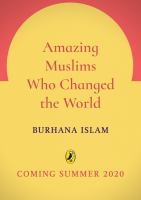 Amazing Muslims who changed the world, by Burhana.
Meet just some of the amazing Muslim men and women who have changed our world – from pirate queens, nurses, warriors, scientists, actors, and mathematicians, to courageous ordinary men and women doing extraordinary things. Who was the first scientist to prove theories about how light travels, hundreds of years before Isaac Newton? Who was the Indian Princess who became a British spy during WWII? (drawn from the Catalogue)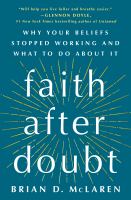 Faith after doubt : why your beliefs stopped working and what to do about it, by Brian D. McLaren.
McLaren, a former pastor and now an author, speaker, and activist shows how old assumptions are being challenged in nearly every area of human life, not just theology and spirituality. He proposes a four-stage model of faith development – Simplicity, Complexity, Perplexity, and Harmony – and offers a path forward that can help sincere and thoughtful people leave behind unnecessary baggage and intensify their commitment to what matters most." (drawn from the Catalogue)
The book of queer prophets : 24 writers on sexuality and religion
As the title suggests, this is a thoughtful exploration of faith in the modern era: How does it feel to be excluded from a religious community because of your sexuality? Why do some people still believe being LGBT is a sin? Jeanette Winterson tackles religious dogma, Amrou Al-Kadhi writes about trying to make it as a Muslim drag queen in London, John Bell writes about his decision to come out later in life, and Kate Bottley explains her journey to becoming an LGBT ally.
Hope in times of fear : the resurrection and the meaning of Easter, by Timothy Keller
The different Resurrection accounts of Jesus in the Gospels agree that Jesus' female followers were the first to visit the empty tomb. Yet none of his most loyal and steadfast followers recognised him at first. Nothing had prepared even his disciples for that moment when they met the resurrected Jesus. All physically saw him and yet did not truly see him. It was only when Jesus invited them to see who he truly was that their eyes were open. Read about the meaning of Easter as the central message of the Christian faith.