The following blog post has been reproduced, with minor adaptations,  from resources provided by the Sustainable Business Network, with their kind permission.

Why should my business become more sustainable?
Sustainability is, fundamentally, the ability to continue doing something, long term.
For businesses this means earning enough to survive, grow and support your staff, while improving the world around you. It includes what you do – the products and services you sell – and how you do it.
The Sustainable Business Network focuses on three main aspects of this: acting on climate change, designing out waste and regenerating nature.
The business case for sustainability is clear.
Reach more customers…
According to recent Kantar Better Futures reports, which survey New Zealand households:
48% have deliberately switched to a brand/service provider which is more sustainable
36% said they were committed to living more sustainably
38% express selected climate change as an issue of concern
29% were actively seeking out 'do good' brands and were prepared to invest their time for these companies
the build up of plastic in the environment, over packaging, non-recyclable packaging and landfill were among the top 10 concerns
In addition, business buyers, including some of the big players like supermarkets and large retail chains, are increasingly including sustainability requirements into their policies on what they buy, and from whom.
…including overseas
The World Business Council for Sustainable Development says sustainable business will be worth $12 trillion a year by 2030.
Cut costs
Sustainable business is efficient business. Wherever you apply sustainability thinking, savings can be found. For example:
an energy-efficient office spends about 20% less on energy bills
sending waste to landfill can be a costly business – you can save up to $200 by reducing a tonne of commercial rubbish
The sustainability initiatives introduced by Soar Print over the past 11 years have saved more than $200,000 in fuel and other materials.
Recruit and retain the best new talent
According to a global report by Deloitte in 2018, "well-being, reputation for ethical behaviour and opportunities to volunteer to make a difference in the community" all featured in the top job priorities for millennials. And according to Colmar Brunton, 72% of those aged 13-17 say it's important that their future employer is socially and environmentally responsible.
Innovate with the best
Addressing the world's most pressing problems is the growth area in business innovation.
That's what's grown plastic-free beauty product company Ethique from a kitchen bench in Christchurch to a multi-million dollar business within a decade. It's what's helped Karma Cola take on the world's biggest drinks companies with a more ethical alternative. It's what took Ceres Organics from a food stall at a school faire to Australasia's premier distributor of certified organic foods.
Finally, and perhaps most importantly, … decades of experience has convinced SBN that doing the right thing just feels better, and leads to a better life for everyone. There's even some research that suggests that, if done for the right reasons, it makes you live longer. It's what allows you to go home to your families and speak proudly of what you spend your time doing. But then, you probably knew that already.
Go to SBN's practical resources and find out what you can do.
SBN also provides further information outlining the Benefits of a Sustainable Business
Wellington City Council also has guidance on reducing your impact on the environment.
Within the Wellington City Libraries collection you will find a range of material that help you on your sustainable business journey.
On Linkedin Learning you can find courses like :
Sustainability Strategies
Business and sustainability
A changing climate compels us to change the way we do business. Incorporating sustainability into your business can help your bottom line and build your company's brand. This course shows how to adopt smart sustainability practices to drive financial performance, attract and retain employees, and protect your company's license to operate. David Bennell outlines how to establish your reputation as a company focused on sustainability, manage supply chains more responsibly and effectively, create sustainable products and services, and reduce energy use, waste, toxic substances, and emissions. Last, he helps you figure out how to track key metrics, assess your company's carbon footprint, and improve your environmental, social, and governance (ESG) practices.
(Library registration and login required to access)
On our online streaming platforms Beamafilm and Kanopy you can access documentaries like the one below (Use search terms like "Sustainable business" or "sustainability business")
Living the change : Inspiring stories for a sustainable future
Duration:  1 h 26 min
Country: New Zealand
Rating: PG
Year of Release: 2018
Living the Change explores solutions to the global crises we face today through the inspiring stories of people pioneering change in their own lives and in their communities in order to live in a sustainable and regenerative way.
Within the book collection you will find :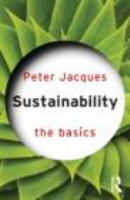 Sustainability : the basics / Jacques, Peter
"Sustainability is concerned with the issues around the ongoing and mutual preservation of both society and the environment. It is a widely used term and supposed goal for many governments but it is also easily misunderstood. Sustainability: The Basics offers an accessible and interdisciplinary introduction to the concept, and discusses key questions such as: How do we decide who or what should be sustained? How can we ensure that the world's resources are distributed fairly? What lessons can we learn from the collapse of previous civilizations? Sustainability studies is in a position to ask some of the most interesting questions about human purpose, identity, modernity, ethics, and the nature of "progress". This book is an ideal starting point for anyone who wants to know more about we can 'hold up' civilization, humanity, and the world we live in"– Provided by publisher." (Catalogue)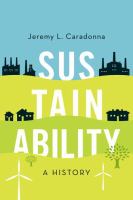 Sustainability : a history / Caradonna, Jeremy L.
"An engaging primer of the history of the sustainability movement from the 1600s to the present day, illuminating how sustainability evolved from a relatively marginal idea to the centerpiece of international accords, a top priority for governments and non-profit organizations, and a philosophy of hope and resilience with widespread appeal." (Catalogue)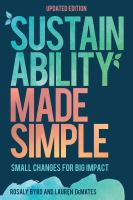 Sustainability made simple : small changes for big impact / Byrd, Rosaly
"Sustainability Made Simple explores the relationship between everyday life and the intricate global environmental issues of today, illustrating how small changes in daily routines and mentalities can add up to a big impact." (Catalogue)
Sustainable marketing : how to drive profits with purpose / Carvill, Michelle
"In the modern age of authenticity and transparency, consumers are no longer content with brands that are dismissive of, or even apathetic to, sustainability. Brands are now expected to convey understanding and concern when it comes to matters such as climate change, carbon footprints and employee welfare. Most importantly of all, they must be genuinely committed to these standpoints – remaining consistent and proactive in their principles. With the rise of more conscious consumers and the belief-driven buyer, organizations ignore sustainability and the spirit of 'doing good' at their own peril. From three marketing experts with decades of experience between them, Sustainable Marketing delivers the new benchmark for modern marketing. This book clarifies the importance of the sustainable approach before providing a comprehensive guide to implementing, driving and maintaining these practices in any organization. A must-read for any business leader or marketing executive, this is a unique and fascinating blend of academic research and practical case studies that will kick-start and inspire sustainable initiatives." (Catalogue)
Walking the talk : the business case for sustainable development / Holliday, Charles O
"Major business leaders argue that sustainability is not only compatible with but crucial to business success. Drawing on nearly 70 case histories of companies around the world, the authors show how the three pillars of sustainable development – economic growth, ecological balance, and social progress – work to improve the bottom line even as they create a better world." (Catalogue)
Eco-business : a big-brand takeover of sustainability / Dauvergne, Peter
"Two experts explain the consequences for the planet when corporations use sustainability as a business tool." (Catalogue)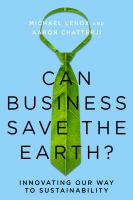 Can business save the Earth? : innovating our way to sustainability / Lenox, Michael
"Increasingly, business leaders are tasked with developing new products, services, and business models that minimize environmental impact while driving economic growth. It's a tall order―and a call that is only getting louder. In Can Business Save the Earth?, Michael Lenox and Aaron Chatterji explain just how the private sector can help. Many believe that markets will inevitably demand sustainable practices and force them to emerge. But Lenox and Chatterji see it differently. Based on more than a decade of research and work with companies, they argue that a bright green future is only possible with dramatic innovation across multiple sectors at the same time. To achieve this, a broader ecosystem of players―including inventors, executives, customers, investors, activists, and governments―all must play a role. The book outlines how and the extent to which each group can serve as a driver of green growth. Then, Lenox and Chatterji identify where economic incentives currently exist, or could exist with institutional change, and ultimately address the larger question of how far well-coordinated efforts can take us in addressing the current environmental crisis." (Catalogue)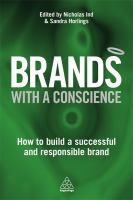 Brands with a conscience : how to build a successful and socially responsible brand
"The definitive expert guide to ethical brand practice from the prestigious Medinge Group, Brands with a Conscience dissects the philosophy underpinning sustainable brands to arrive at a set of eight clear guiding attributes which can be used as the foundation of a strategy for responsible growth." (Catalogue)
If you would like more information please contact the Prosearch team at the library.  We can help you find information across a range of perspectives and resources.  All enquiries are treated in confidence.