Rakahinonga pāpori
Social entrepreneurship
Welcome
Welcome to Wellington City Libraries' page of resources on social entrepreneurship. Here you'll find a cross-section of what the library holds with some quick links into our online databases and the library's catalogue, and links to websites selected by our subject librarians.
Recent books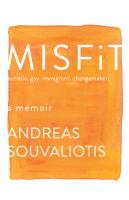 Misfit : changemaker with an edge / Souvaliotis, Andreas
"Updated and expanded: A new edition of the inspiring memoir by one of Canada's most unusual, successful and socially conscious businesspeople.

"I am different. I have always been different. I grew up scared of being found out, scared of my natural inability to fit in, to conform, to look and sound and dress and behave 'normal.' I was always drawn to the different ones and I observed them with fascination--but the thought of being even a little bit like them mortified me. I was desperate to fit in. . . ." --From Misfit Andreas Souvaliotis was raised at a time when being on the autism spectrum wasn't easily diagnosed or even discussed. Minds like his were simply considered odd. He also knew from an early age he was gay, and it terrified him as he was growing up with openly homophobic parents in one of Europe's least tolerant societies.

Andreas's differences made him an outsider, right through to his mid-forties. And then suddenly, everything changed. Misfit is the extraordinary memoir of a man who realized there was strength in his strangeness, that it could be used as a force for good. "It all happened in a flash. On a beautiful spring morning in 2007, sitting in my backyard and licking my wounds from a spectacular career derailment, I came up with a big idea--and I found myself contemplating the most daring and unconventional pursuit of my life." The weird kid from Greece was on his way to making his world, and everyone's world, a better place.Andreas Souvaliotis's inspiring story shows us that everyone has what it takes to trigger positive change, and that none of us should see our differences and quirks as handicaps.

* The author is donating all of his proceeds from this book to 6 Degrees, a global charitable initiative that promotes inclusion, diversity, belonging and citizenhip. 6degreesto.com" (Catalogue)
Compassion Inc. : unleashing the power of empathy in life and business / Sinha, Gaurav
"Be inspired to transform your business to change the world. Do you ever wonder how successful businesses can be used as a force for good? Do you sometimes feel conflicted by the principles of capitalism? Do you wish to change the world around you whilst doing what you love? In this book, Gaurav Sinha, world-class businessman and entrepreneur, founder of Insignia in 2003, outlines the economics of empathy for life and for business. He offers actionable solutions to maintaining a successful trade in a changing global landscape where conscience, ethics, and authenticity are high on the agenda. The world is changing, perceptions are shifting, consumers are evolving, and this book will ensure your business keeps up." (Catalogue)
The ethical capitalist : how to make business work better for society / Richer, Julian
"Capitalism has lost its way. Every week brings fresh news stories about businesses exploiting their staff, avoiding their taxes, and ripping off their customers. Every week, public anger at the system grows. Now, one of Britain's foremost entrepreneurs intervenes to make the case for putting business back firmly in the service of society, and setting out on a new path to a kinder, fairer form of capitalism. Drawing on four decades of hands-on management experience, the founder of Richer Sounds argues that ethically run businesses are invariably more efficient, more motivated, and more innovative than those that care only about the bottom line. He uncovers the simple tools that the best leaders use to make their businesses fair, revealing how others can follow suit. And he also delves into the big questions that modern capitalism has to answer if it is to survive and to thrive. When should--and shouldn't--the state intervene in the workings of commercial enterprises? What does business as a whole owe back to the wider community? Is the relationship between leaders of big corporations and politicians too cozy, and, if so, what is to be done about it? At heart, The Ethical Capitalist is a plea for a new sense of moral purpose in business. If that takes hold, Julian Richer believes, we might just save capitalism from itself." (Catalogue)
Selected online articles and resources
New Zealand
International
Catalogue Quicksearch
Useful websites
New Zealand
International
Contact us
This page is written and maintained by Marilyn Domney, our Libraries' Business Customer Specialist. I'd be pleased to hear from you about this page - contact me with any feedback.
Page last updated November 2019