Everything is holy! everybody's holy! everywhere is holy! everyday is in eternity! Everyman's an angel!" ― Allen Ginsberg, Howl and Other Poems
Lawrence Monsanto Ferlinghetti, the founder of World-famous and hugely influential City lights Bookstore, has passed aged 101. Ferlinghetti and the City Lights Bookstore had close ties and associations with the American, radical, romantic and often perceived as hedonistic Beat generation.
Ferlinghetti disliked the association despite publishing the famous Howl and other poems by Allen Ginsberg. Ginsberg was one of the three very different writers that came to epitomise the Beat movement the others being Jack Kerouac and William Burroughs. Each in their own way explored ideas of individual freedom, views on sexuality, and questioned the mainstream values and norms of the time such as ecological issues or the destructive ideas that underpin modern capitalism.
The Beat generation made many of these at the time minority views acceptable allowing them to percolate into mainstream culture and paved the way for the 1960s counterculture, and many of their ideas are now regarded as the norm today.
Ferlinghetti was also a poet (A Coney Island of the mind sold over one million copies), an artist and self-confessed Anarchist activist who avoided personal publicity and biographical details as much as possible. Often making up different versions of his past when asked. In later years the City Lights bookstore became a tourist attraction and a cultural focal point in San Francisco. So much so that the City proclaimed March the 23rd, his birthday, "Lawrence Ferlinghetti Day".
We have a wide collection of Beat generation titles and even some City Light published books in our collection. For a small selection see below.
A Coney Island of the mind : poems / Ferlinghetti, Lawrence
"Ferlinghetti's A Coney Island of the Mind has become a modern classic. It has been translated into nine languages and there are now three-quarters of a million copies in print. The title of this book is taken from Henry Miller's "Into the Night Life" and expresses the way Lawrence Ferlinghetti felt about these poems when he wrote them during a short period in the 1950's as if they were, taken together, a kind of Coney Island of the mind, a kind of circus of the soul." (Adapted from Catalogue)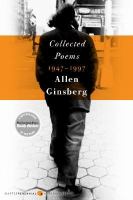 Collected poems, 1947-1997 / Ginsberg, Allen
"The only volume of collected poems to cover the entire 50-year career of the poet "responsible for loosening the breath of American poetry at mid-century" (Helen Vendler). Here, for the first time, is a volume that gathers the published verse of Allen Ginsberg in its entirety, a half century of brilliant work from one of America's great poets. The chief figure among the Beats, Ginsberg changed the course of American poetry, liberating it from closed academic forms with the creation of open, vocal, spontaneous, and energetic postmodern verse in the tradition of Walt Whitman, Guillaume Apollinaire, Hart Crane, Ezra Pound, and William Carlos Williams. " (Adapted from Catalogue)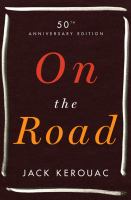 On the road / Kerouac, Jack
"On the Road is the classic story of two characters who set off on an odyssey through 1950s underground America. On the Road chronicles Kerouac's years traveling the North American continent, from East Coast to West Coast to Mexico, with his friend Neal Cassady, "a sideburned hero of the snowy West." As "Sal Paradise" and "Dean Moriarty," the two roam the country in a quest for self-knowledge and experience. Kerouac's love of America, his compassion for humanity, and his sense of language as jazz combine to make On the Road an inspirational work of lasting importance." (Adapted from Catalogue)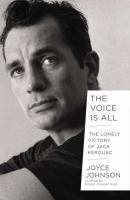 The voice is all : the lonely victory of Jack Kerouac / Johnson, Joyce
" In The Voice is All, Joyce Johnson, author of her classic memoir, Door Wide Open, about her relationship with Jack Kerouac, brilliantly peels away layers of the Kerouac legend to show how, caught between two cultures and two languages, he forged a voice to contain his dualities. Looking more deeply than previous biographers into how Kerouac's French Canadian background enriched his prose and gave him a unique outsider's vision of America, she tracks his development from boyhood through the phenomenal breakthroughs of 1951 that resulted in the composition of On the Road, followed by Visions of Cody." (Adapted from Catalogue)
Cities of the red night / Burroughs, William S.
"While young men wage war against an evil empire of zealous mutants, the population of this modern inferno is afflicted with the epidemic of a radioactive virus. An opium-infused apocalyptic vision from the legendary author of Naked Lunch is the first of the trilogy with The Places of the Dead Roads and his final novel, The Western Plains." (Catalogue)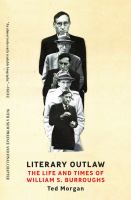 Literary outlaw : the life and times of William S. Burroughs / Morgan, Ted
"Almost indecently readable . . . captures [Burroughs's] destructive energy, his ferocious pessimism, and the renegade brilliance of his style."–Vogue With a new preface as well as a final chapter on William S. Burroughs s last years, the acclaimed Literary Outlaw is the only existing full biography of an extraordinary figure. Anarchist, heroin addict, alcoholic, and brilliant writer, Burroughs was the patron saint of the Beats. His avant-garde masterpiece Naked Lunch shook up the literary world with its graphic descriptions of drug abuse and illicit sex and resulted in a landmark Supreme Court ruling on obscenity." (Catalogue)
Women of the Beat generation : the writers, artists, and muses at the heart of revolution
"An anthology of the lives, writings and secrets of the women of the Beat Generation, this book contains biographies poetry and prose by Hettie Jones, Joyce Johnson, Ruth Weiss, Jan Kerouac, and others. It contains commentary by American poet of the year Anne Waldman and Allen Ginsberg." (Catalogue)
The Beat Hotel : Ginsberg, Burroughs, and Corso in Paris, 1958-1963 / Miles, Barry
"The Beat Hotel has been closed for nearly forty years. But for a brief period–from just after the publication of Howl in 1957 until the building was sold in 1963–it was home to Allen Ginsberg, William Burroughs, Gregory Corso, Brion Gysin, Peter Orlovsky, Harold Norse, and a host of other luminaries of the Beat Generation. Now, Barry Miles–acclaimed author of many books on the Beats and a personal acquaintance of many of them–vividly excavates this remarkable period and restores it to a historical picture that has, until now, been skewed in favour of the two coasts of America." (Adapted from Catalogue)
The best minds of my generation : a literary history of the Beats / Ginsberg, Allen
"A unique and compelling history of the Beats, in the words of the movement's most central member, Allen Ginsberg, based on a seminal series of his lectures In summer 1977, Ginsberg thought it was time for a literary history of what he, Jack Kerouac, William S. Burroughs, and others had accomplished and designed a course he taught five times, first at the Naropa Institute and later at Brooklyn College. Compiled and edited by renowned Beat scholar Morgan, this book presents those lectures, complete with notes. ." (Adapted from Catalogue)